In addition to "Profit" and obvious "Number" , the purpose of overseas expansion is that if it is not possible to bring some kind of benefit to the execution of overseas expansion There is none.
There are various hurdles to expand overseas, but in order to plan, think objectively, and deal with them in an orderly manner, the risk of failure is greatly reduced, time is shortened, and cost-effectiveness is improved Will be possible.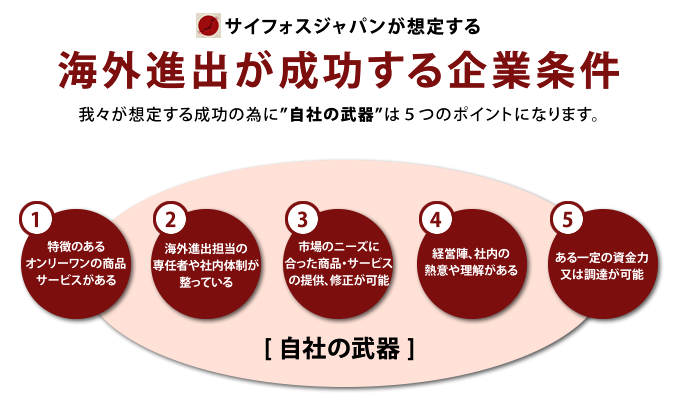 Even if you were thinking of going overseas, you might not know how to actually approach your approach. Please refer to the current position confirmation in the chart map.
Also, you do not have to move things according to the items above and the chart map. This is just an example. You can choose according to your thoughts and circumstances.
Even if you are thinking overseas and overseas, you may not be efficient. At first it seems that it is necessary to make clear strategic planning and judge the company objectively.
Road map for overseas business

1)Why overseas? Perform in-house analysis objectively
In Japan, wards such as globalization and overseas expansion frequently appear, but if the current business model can fully generate profits within the coming decades alone in Japan, it is not necessary to look at overseas It does not happen.

Why do you look overseas now? Feelings are very important, but that alone can not succeed. Let's consider a clear vision first.


Is the situation for overseas expansion in place?



・Is internal policy monolithic?
・Management's thinking
・Fund/Capital/Budget
・Overseas representative
・Core products and services
etc…

Why do you want to go overseas?



・Worry about the future in the domestic only business model
・Domestic market shrinks
・I feel infinite potential in overseas markets
・Increase in inquiries from overseas
・Reduced manufacturing costs
etc…

Optional service

・Overseas expansion strategy planning support
・Arrangement of seminars and study sessions

2)Full preliminary survey of the market
In the business world as well as in Japan, information gathering is the key to success.

In addition to investigating the demand for your products and services, check the local foreign currency regulations, customs, security, etc., and choose the country that is best for your company. By conducting a thorough investigation in advance, the possibility of avoiding subsequent problems etc. increases.

Full survey of target countries



・Economic situation of country
・Foreign currency limit
・Security/Safety
・Regulation
・Economic growth rate
etc…

Potential of own company materials



・Market needs
・Competitors
・Market value
・Consumer segment
・Pricing
etc…

Optional service

At our company, specialists conduct research on various countries around the world according to your request.

3)Planning outline based on the information obtained
Analyze the information obtained from the pre-survey and determine the target country.

Based on the business foundation 5W, 1H, use When, Where, Who, Who, Why, How, How It is good to create it and also create a schedule table for the future at the same time.

Create business plan



When
Where
Who
What
Why
How
make the 5W1H clear


Understand the advantage and disadvantage



Not only positive points in the plan,
Fairly list negative points about risk

Optional service

・Overseas expansion strategy planning support
・Arrangement of seminars and study sessions

4)Conduct of test marketing
With desk research alone, there is a limit to obtaining local real information.

It is essential to carry out on-site inspections, approach the relevant foreign companies, provide samples, and conduct test marketing.

Really confirm with your own eyes



"Seeing is believing"No matter how much research is done and you look at videos and images, there is no better way to visit the site than you have experienced with your own feeling

Feedback from local companies




You can get the demand, the local price, the lineup, etc. of your company's merchandise by approaching the company that handles the company's merchandise and providing samples.

Optional service

・We will arrange Customized on-site visit that are more practical and can be directly linked to the business.

5)Final decision on overseas business strategy
Final confirmation and correction of strategies and plans.

Are you going overseas or going to a stop? Also, in what form are you going overseas? You will also need to recheck your internal alignment, your staff, and your internal policies.

Internal consensus



In order to expand overseas, internal communication is essential. In addition to promoting the plan as it is based on the data collected up to this point, it is also necessary to have the determination to stop with courage.

Strategy re-check



No matter how much preparation is done, it will be necessary to fine-tune the plan after test marketing.

Optional service

・We have Strategy review service that can immediately identify and correct problems if the overseas expansion project already promoted by our company is not suitable.

6)Go to overseas!
Overseas expansion is not limited to establishing overseas bases.

First of all, in order to minimize the risk, there are also forms of advancement that start from provision of products from Japan to foreign countries, and tie-ups with foreign companies.

Risk avoidance



requires a lot of effort, time and money. In addition, there are a lot of items to be processed, such as visas for human resources, local people, and temporary human resources who leave the area. Consider methods of risk avoidance, such as operations from Japan and partnerships with foreign companies.

List local companies



You need to find a partner from among a large number of local companies that produces benefits for your company as well as your partner.

Optional service
・We will check contracts submitted by foreign companies, final negotiations, and support contracts.

・Cost-effective business partner list up service.

7)Setup local company
In the case of operations from Japan and outsourcing to local partners, we can not make it in time for inquiries and responses from overseas.

Once we have sufficient results, experience, and needs from the market, and our own system is in place, we will carry out the mission to establish a local corporation.

Establish a local company system



It is necessary to clear various items before starting operations, such as local office contracts, securing of personnel, and license acquisition depending on the type of industry.

Consider M & A



There is also a way to buy an existing company to reduce the time to launch a business locally from scratch. However, cross-cultural acquisitions require a cautious response and tenacious bargaining power.

Optional service

・In order to set up a local corporation, in addition to registration, it is necessary to clear all sorts of regulations. In Setup local company service, we support the establishment of complicated procedures.

・We will check contracts submitted by foreign companies, final negotiations, and support contracts.

・This is a M&A support service that supports and carries out in-depth surveys such as tough negotiations and survey information that can not be grasped from documents in a package.
Your overseas business starts from here!