Our strength
The way to create your own website in English, increase the number of accesses, and allow more people to see it can be said to be a way to promote and attract one overseas company.
However, the probability of choosing one's own products or services from many other companies in the same industry or similar products is unclear, and it takes a lot of time to raise awareness, which is unfortunately too good in terms of efficiency. It may not be.
The main reason that the company can "probably up", "high efficiency", "fast" is because there are connections and networks that can be contacted directly with the "light person"!
"Light person" is a word that can not be heard, but it means "person with the right to make decisions" and "suitable person". In Japanese style, this is the president or executive of a company that has the right to make decisions.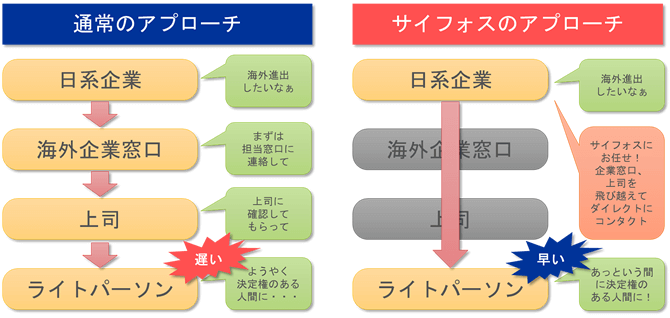 Usually, when we want to have business relationships with foreign companies, we first contact the representative of each company. Next, the person in charge (employee without title, chief manager, chief class) will respond. Once some conditions are met with the person in charge, they are reported to the superior (section manager, section manager class) and then wait for the discretion of the light person (president, officer class) if it is an attractive story. You
Of course, the conference will be held overseas as well as in Japan, but this light person has the right to make an immediate decision at his own discretion, unless it is a large project like betting on company luck.
In this case, we will skip the process from the person in charge of the regular procedure to the manager by carrying out sales promotion, explanation, PR of your product, service directly to the person who has the authority of this prompt decision and immediate decision. "Probability up" "High efficiency" "Fast" is possible.
In addition, the parent company of Saifoss is a consulting company that receives many inquiries from around the world every day. We are giving priority to introducing to the registered companies of Sophos that have high possibility of matching projects.
Direct sales to light persons, referrals from consulting companies, attracting customers from the company. The double and triple sales method is the largest strength of the company.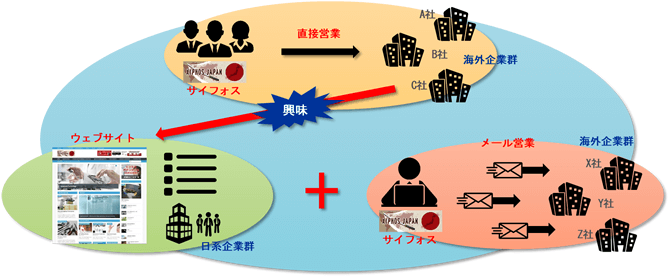 Wallet-friendly Xiphos service
In fact, there are many cases where you travel overseas many times a year, go to a company to kick, and do not get rewarded for your efforts even after repeated business negotiations. In the background, there are cases where the light person (see above) who has the decision to immediately and immediately decide on the negotiation does not attend, and reports on the negotiation to the superior and then waits for the light person's instruction.
This process increases the number of business talks and business trips, and eventually bounces back to the company in the form of budgeting. Since the company directly interacts with the decision maker's right person, what do you want, such as whether you are interested in your business proposal in advance or not? You can accurately understand the
It is not efficient to repeat business negotiations with companies that are not interested in proposals, so if you pick up a company that is interested in it and repeat negotiations and business talks centered on that company, the possibility of business establishment will naturally increase. Therefore, it is possible to complete the business with the minimum necessary business trips such as final condition confirmation and contract signature.
With our specialists, we will support you according to your needs, so you can reduce costs and achieve efficient results!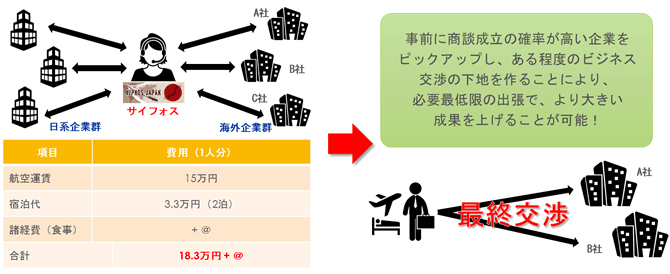 Xiphos is a best partner for cost reduction【Part2】
I think that some customers may find it somewhat difficult to rely on outsourcing for core business activities.
The only problem is that there are qualified people for overseas expansion. I'll use that one word.
In fact, just being able to speak English has no meaning in the international community. Tough negotiations with foreign companies require not only fluent English skills, but also high wit-rich communication skills, and knowledge of international affairs and markets.
Advantages of hiring full-time employees in-house
・You can accumulate know-how such as negotiations and exchanges with foreign countries as in-house property.
・You can think about in-house plan and human resources development based on long-term view.
・You can expect stable and improved corporate foundation.
Disadvantages
・Whether or not it is possible to hire human resources (cost-effectiveness) commensurate with salary.
・Even if the company's policy changes, it is not easy to dismiss personnel.
・There is no guarantee that results will be achieved within the period the company is seeking.
With our specialists, we will support you according to your needs, so you can reduce costs and achieve efficient results!
Necessary expense items when recruiting one person in charge of an overseas representative in-house is as follows.
1)Salary
2)Bonus
3)Retirement allowance
4)Social insurance
5)Welfare expenses
6)Training cost etc…
If the salary of the overseas representative is 300,000 yen per month, social insurance premium will be about 550,000 yen a year.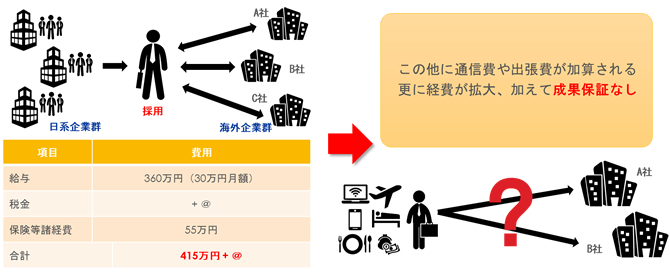 Salary 300,000 yen x 12 = 3,600,000 yen + Social insurance fee 550,000 yen =4,150,000 yen
will be an annual expense.
As this amount does not include bonuses and welfare expenses, including these costs will require approximately 5,000,000 expenses annually.
If you choose Bamboo plan with our service
the annual cost will be 1,580,000 yen(inc tax & initial cost)
 
In other words,
5,000,000 yen - 1,580,000 yen = 3,420,000 yen
 
it is possible to reduce the cost by 3,420,000 yen annually.
*These amounts are just examples and vary depending on the number of employees in the company and the applicable law. There is also a possibility that a gap of the amount will occur. It would be appreciated if you could think of it as a guide only.